The following links are great resources to use if you ever need extra help.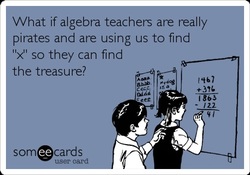 LearnZillion
- A great website for additional
Coordinate Algebra Study Guide
- A study guide covering the entire course to help prepare you for the End of Course Test. (
Answers
)
Cool Math
- A great site that has a lot of fun games and lessons to reinforce the content learned in the classroom. This site covers all basic high school math subjects including Pre-Calculus.
Online Math Learning
- A fantastic site for both parents and students. This site provides tutoring for all math topics and includes resources for the ACT and SAT.
Ask Dr. Math
- This site offers help on all math topics - including Calculus! Another great resource for extra help at home.
Wolfram Math World
- A wonderful website that offers a plethora of mathematical definitions rich with detailed examples.
Khan Academy
- Extremely useful videos that not only demonstrate key concepts, but give easy to understand explanations of the topic.
Purplemath.com
- A website full of lessons, forums, quizzes, and extra worksheets.
Mathway.com - An AMAZING website that offers the users the ability to graph and check their work. (Also available as an app for smartphones.)

Math Competitions and Resources - An AWESOME resource for students who are looking to enhance their math skills and put them to the test! (Recommendation from Colleen - a wonderful digital citizen!)
---